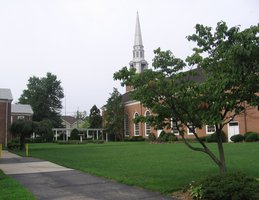 To enroll your child at Faith Christian School, follow these steps:
Print out the Student Application Form form and fill it out completely.

If you are having trouble printing the form, you may contact the principal request that the Student Application Form and enrollment packet be mailed to you.

Mail the Student Application Form along with your $300.00 Non-Refundable Registration Fee to

Faith Christian School
P.O. Box 70,
Collingswood, New Jersey 08108


Your $300.00 Non-Refundable Registration Fee is a "student place holder" through the application process.

Upon receipt of your application, we will send you the rest of the enrollment packet. The packet will include:

Application Check List - For convenience of Applicant - does not need to be returned.
Medical / Health Form to be signed by Student's parents/guardian.
Records Transfer Request from schools attended by Student, to be signed by parents/guardian.
Statement of Cooperation to be signed by Student's parents/guardian.
Pick Up List - List of persons authorized to pick up Student from school, signed by both custodial parents, or by person(s) having legal custody and control of the Student.
Annual Tuition Schedule to be signed by Parent(s) and Payor(s) if different from Parents.
Confidential Pastor's Recommendation
Discount Request Form
Photo Release to be signed by Student's parents/guardian.

(If you desire to see any of the above forms before applying please call the school office at (856) 858-1559, or the Principal, Mrs. Judith Spencer, at (856) 858-0267

When the completed enrollment packet has been received, the school will contact you to arrange the appropriate parent / student interviews and the testing of the Student Applicant for placement. Following the interviews and testing, the school Admissions Committee will make an admissions determination.
Please also have a look at the Enrollment section of our Frequently Asked Questions for more information.